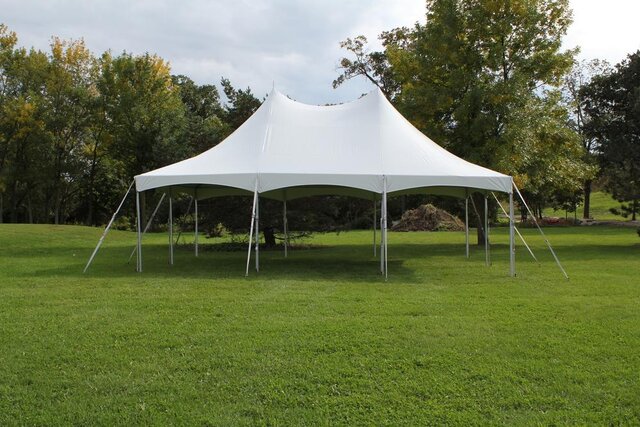 Your trusted choice for Gainesville Georgia Tent Rentals!
Serving Gainesville, GA for over 20 years, Jitterbug Party Rentals is proud to offer event and tent rentals in Gainesville, Georgia and the surrounding community. Our staff has completed hundreds of events and has the experience and professionalism to ensure your tent rental experience runs smoothly. We're proud to offer free 25 mile delivery of in stock tent rentals. Your price includes tent rental setup and tear-down and a standard 3-4 day rental period.
If your event is outdoors, a tent rental from Jitterbug provides an intimate venue that is a good place for shade or to get out of the rainy weather. We can customize your tent rental based on your event size whether its a large tent rental for a corporate function or wedding, or a smaller tent rental for a backyard celebration. Your guests will thank you for providing a comfortable outdoor space out of the weather. Call us today to get a free tent rental quote and don't forget we rent just about anything that goes under the tent such as tables, chairs, and lighting.
View Gainesville GA Tent Rentals by Jitterbug
Why Jitterbug for your Tent Rental?
Free 25 Mile Delivery for In-Stock Tent Rentals & Equipment
Standard 3-4 day Rental Period for Tents
Variety of Tent Styles Such as Frame and High Peak
You deserve a friendly, easy tent rental experience
Easy Gainesville GA Tent Rentals
Free Phone Consultations and Email Quotes
25% Deposit Due At Time of Reservation
Tent Setup and Tear-down and Staking Included in Price
We work weekends so you can get ahold of us!
Tent Rentals For Any Occasion
Tent Rentals for Company Picnics
Georgia Wedding Tent Rentals
Graduation Party Tent Rentals
Tent Rentals for Movie Productions
Church Revival Tent Rentals
Georgia Backyard Tent Rentals
Corporate Tent Rentals
Rehearsal Dinner Tent Rentals
Tent Rentals for Festivals
Sporting Event Tent Rentals