Need Help? Call or Text Us at 678-948-5867

Please Call If Your Time Is Not Showing Available! Displayed Pricing is One Day Rental.
Select Overnight for Next Morning Pickup +$30
Select Multiday Rental for full day extended rentals +40%
Any Travel Fees Over 25 Mile Free Delivery Zone Calculated At Checkout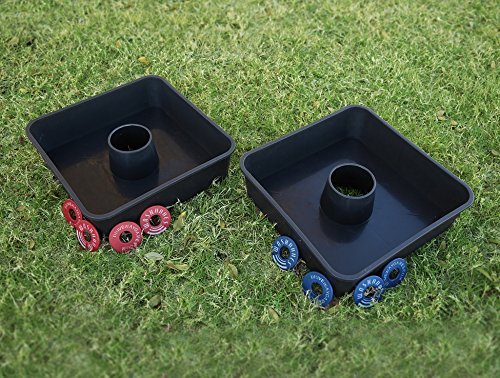 Washer Toss Game (Inside/Outside)
Setup Area: 2x2
Age Group: 3+




Washer Toss is an exciting team game perfect for the whole family. Simply toss the washers towards the Target (like horseshoes but safer) with your family! This game is weather proof and can be used indoors or outdoors.
GAME OF SKILL--- Similar to Horseshoes, individuals or teams compete against one another to be the first to reach a winning score of 11, 17 or 21 points. The game consists of two washer pits located a set distance from one another, each with a recessed cup. Pitch the washers into the opposing tray to score points.
The closer to the center the more points you get.
Lightweight and travels easily.

Made from HDPE (Hight Density Polyethylene)
Set includes 2 trays, 4 Blue Washers, 4 Red Washers, Instructions. (2.2LBS)

Minimum $100 Order for Delivery.