Need Help? Call or Text Us at 678-948-5867

Please Call If Your Time Is Not Showing Available! Displayed Pricing is One Day Rental.
Select Overnight for Next Morning Pickup +$30
Select Multiday Rental for full day extended rentals +40%
Any Travel Fees Over 25 Mile Free Delivery Zone Calculated At Checkout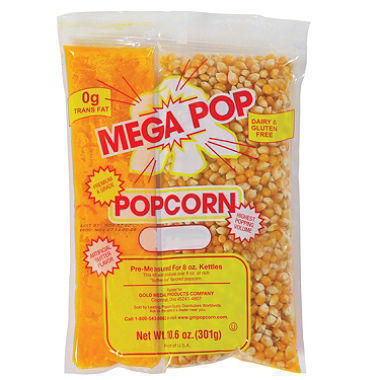 Gold Medal Mega Pop Popcorn Kit (200 Servings)
Everything you need to make popcorn, all in one convenient kit. These kits are meant to be used with 8 oz. popcorn machines. Just cut open the pouch, and pour ingredients into popcorn kettle. Each kit is pre-measured perfectly for "theater style" popcorn every batch. 200 Bags Included.

-24 Kits Per Case
-Makes 160 Quarts (~200 Servings)
-Kosher Parve Certified
-No Mess, No Measuring
-Popcorn Machine ordered separately.