Need Help? Call or Text Us at 678-948-5867

Displayed Pricing Pickup by 8pm.
Select Overnight for Next Morning Pickup +$50
Select Multiday Rental for full day extended rentals +40%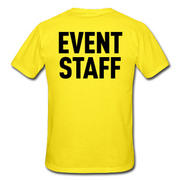 Event Attendant
Need a hand or two at your event? We've got you covered. Rate is $60 per person for 3 hours minimum. Additional time is $20 per hour.

Event Staff arrive onsite 30 minutes prior to event start-time to ensure all inflatables are blown up and concessions are working and ready, and will stay up to 30 minutes after event end-time to deflate inflatables and help prep equipment for pick up.

We will:
Stay to monitor inflatables

Run any rental equipment

Make concessions with our equipment

Help with setup or cleanup duties.

Keep it professional
We won't:
Be responsible for children's supervision at the party

Act as Bouncers, Parking Valets, or Security staff

Operate machinery or equipment not rented from Jitterbug Party Rentals
We also have Event Staff ready to assist at your corporate event or wedding reception. Give our Events Coordinator a call, if interested. 678-048-5867
Crew will wear Jitterbug Shirts and solid color shorts or pants to your event unless other arrangements have been made in advance!