Need Help? Call or Text Us at 678-948-5867

Displayed Pricing Pickup by 8pm.
Select Overnight for Next Morning Pickup +$50
Select Multiday Rental for full day extended rentals +40%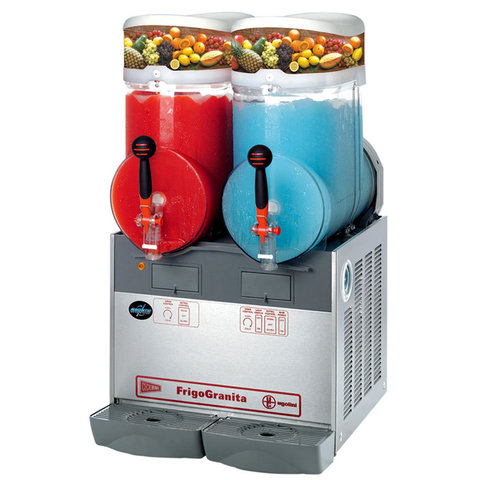 Frozen Drink Machine
Setup Area: 2x2
Outlets: 1
Age Group: Adults




Lottie Dottie It's Time To Party!
Add a litte more fun to your party with frozen drinks for your guests. Rent a Frozen Drink Machine from Jitterbug Party Rentals. Margaritas, Frozen Daiquiris, Pina Coladas, All the favorite frozen party mix drinks made easy. (Mixes can be made with or without Alcohol)
Steve's Frozen Chiller Machine is a state of the art 2 bowl countertop drink machine that delivers frozen fun. The mixes taste just like you made it from scratch. The machines deliver a perfect and ready to serve mix. We'll help you get started, you just pull the handle and start serving everyone's favorite frozen drinks. No more waiting on the bartender to mix drinks, and best of all no mess.
- No blender and easy to use
- Don't need any ice
- Bar mixes for all your favorites
- Machine delivers ready to serve drinks
- 1 gallon of mix makes 2.5 gal. of drinks
- 2.5 gal. of drinks is 40 - 8 oz. drinks
- Twin bowls = 2 choices at the same time
- Quality machines that freeze quickly
-Mixes Sold Separately
- Alcohol not provided
Do you need to add ice to the machine?
No, the Drink Machine will freeze your mix in as little as 30 minutes depending on indoor/outdoor location and temperature. All you need is a source of power, standard 110-120 volt household power is adequate.



Does the machine need a water line?
No, you mix the water in with your flavor or drink mix concentrate right in the 5 gallon containment bowl. Once you turn the machine on it will begin the freezing process.