Need Help? Call or Text Us at 678-948-5867

Displayed Pricing Pickup by 8pm.
Select Overnight for Next Morning Pickup +$50
Select Multiday Rental for full day extended rentals +40%
Any Travel Fees Over 25 Mile Free Delivery Zone Calculated At Checkout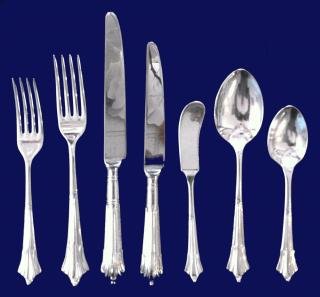 Corby Hall Fine Silver
Corby Hall Fine Silver is one of our most luxurious lines of flatware. This set includes the following utensils which are shown in order from left to right on the photo: Salad/Dessert Fork, Dinner Fork, Dinner Knife, Luncheon Knife, Butter Spreader, Teaspoon and Demitasse Spoon.Corby Hall Fine Silver is best suited for hi-end, formal events.
All flatware rentals will incur an additional $100 labor & delivery charge.
Flatware Rentals must be retured in delivery crates rinsed clean and debris free.